Ifrisol Company was founded by Mr. Mohamed Zrouga, the founder of Zrouga holding. Ifrisol is one of the award-winning leading brands in the renewable energy industry in Africa, providing high-quality new renewable energy products and services since 2012.
Driven by both innovations in technology and an effective brand strategy, Ifrisol continuously extends the industry chain upstream and successfully executes the downstream projects. Ifrisol brand has become synonymous with high-performing, top-quality photovoltaic modules and has specialized in PV technology innovation, application, and system development.
The company is a key component supplier and project developer. Ifrisol's global sales and marketing network successfully provides end-users with accessible clean energy, whilst promoting its core brand values of stability, durability, and reliability.
Thanks to these pillars, the balance between price and quality is well in tune with the product offering, reduces the Levelized cost of electricity (LCOE), and thus maximizes the return on investment (ROI).
IFRI-SOL is an ISO 9001:2015, 14001:2015 & 18001:2007 certified leading organization in India having 750 MW production capacity where we innovate to create and empower the world with functional products to harness and employ clean and green solar energy.
IFRI-SOL provides solutions for solar photovoltaic systems and solar heating water under one roof with in-house R&D facility. Exceeding the high standards and commitment to excellence, our solar products are accepted in domestic as well as overseas markets like in US, Mexico, Africa, Middle East.
We offer a broad selection of Polycrstalline and Monocrystalline solar modules on grid/off grid connected systems. Our solar modules are certified to FIRE RATING TYPE-1 IEC CB 61215/61730/61701,62804, 62716, LID & LETID, UL61730, CEC, Bankable and Insured PV modules and conforming to International standards.
Commited to quality and sustainability
Warranty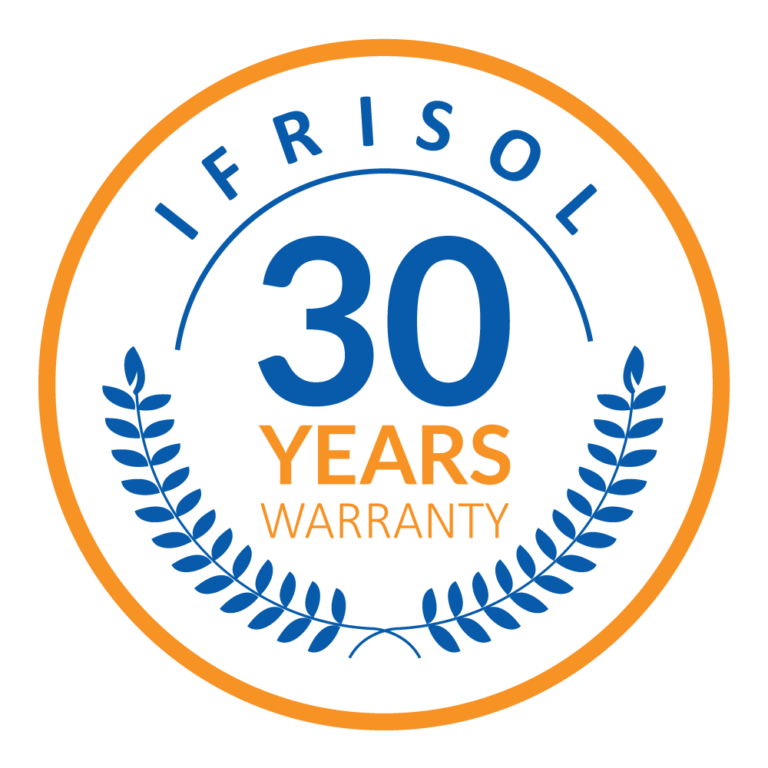 Our Mission
To Develop solar energy around the world by top expertise in PV. Serving our clients with cost-effective and efficient high-quality European products. Pioneering in innovative solutions for the whole solar industry.
Our Vision
A superior eco-friendly, riskless clean approach and safe source of energy across the globe especially in Africa.