New range of powerful solar panels
IFRI-SOL's new Pollux Pro Series solar modules, based on bifacial technology, will be available in the second quarter of 2022 with different power ranges up to 670 W and module efficiencies up to 21.60%, and with a variety of module properties. They are based on multi-busbar technology and are built with a 210 mm wafer.
Nowadays, Bifacial PV is one of the major market trends as being the most cost-effective PV solution and it is becoming the overall best technology for power generation.
The International Technology Roadmap for Photovoltaic (ITRPV) predicted that the market share for bifacial modules will increase from ten percent in 2020 to at least 35% in 2030.
The use of IFRI-SOL's bifacial PERC module – Pollux Pro, in fixed tilt systems, and depending on several factors mentioned below, can lead to a gain in annual energy yield of up to 30% compared to the monofacial equivalent. And by combining these modules with single-axis tracking systems, the annual energy efficiency gains can reach more than 40% compared to fixed-tilt monofacial installations.
These factors are:
– High albedo of the ground surface for e.g white surface
– Mounting height of the modules (>0.5m) above the ground
– Low shading from the rear
– High row distance
Many field-based studies have proven the effectiveness of this technology in various applications (utility scales ; flat rooftop…) and in different environments compared to monofacial technology.
If you want to achieve the lowest LCOE, the bifacial HSAT system is the best solution especially for desert systems. If you want to benefit from a double use of the land area, as in the case of AgriPV, vertical installation is the most suitable solution. Horizontal installations interesting, for example for carports.
This is a comparison of power generation curves for monofacial and bifacial modules with different installation type.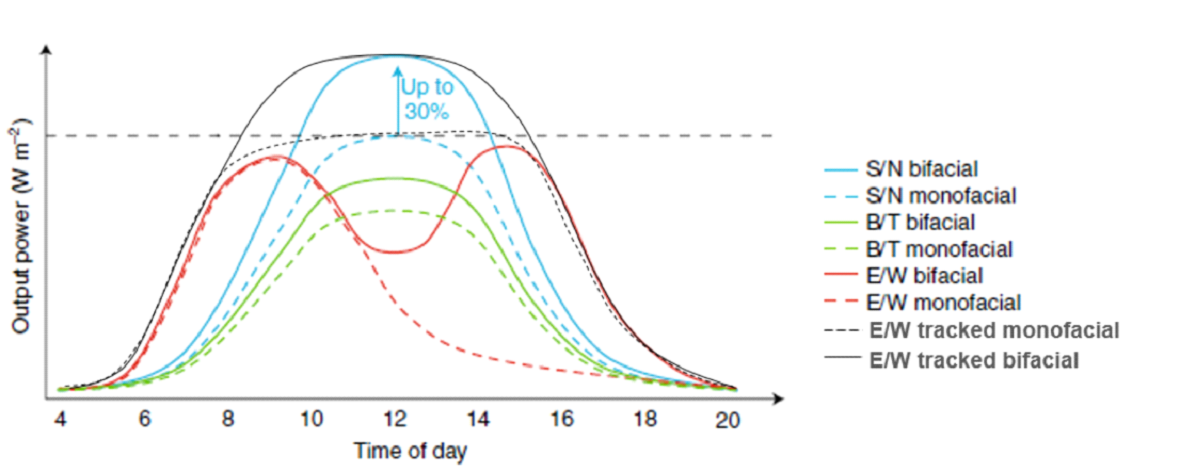 S/N means South/North, B/T is Bottom/Top and E/W is East/West
The Pollux Pro series is distinguished by the variety of products covering a wide power range [405W-670W].It is based on monofacial and bifacial technologies using half and third cut cells to avoid increases in resistive power losses resulting from the high cell current.
They are manufactured with semi-tempered glass, anti-reflective coating; high-density interconnection and a specially designed frame. The modules can operate with a system voltage of 1500 V and are easy to install and handle due to their optimized layout and weight.
IFRISOL is committed to providing innovative and efficient products to meet the needs and requirements of their customers with lowest levelized cost of energy (LCOE) and the balance-of-system (BoS) costs. The aim of these products is to produce clean and sustainable energy.